Further details & requests: dominik.czaplicki@jcet.eu
---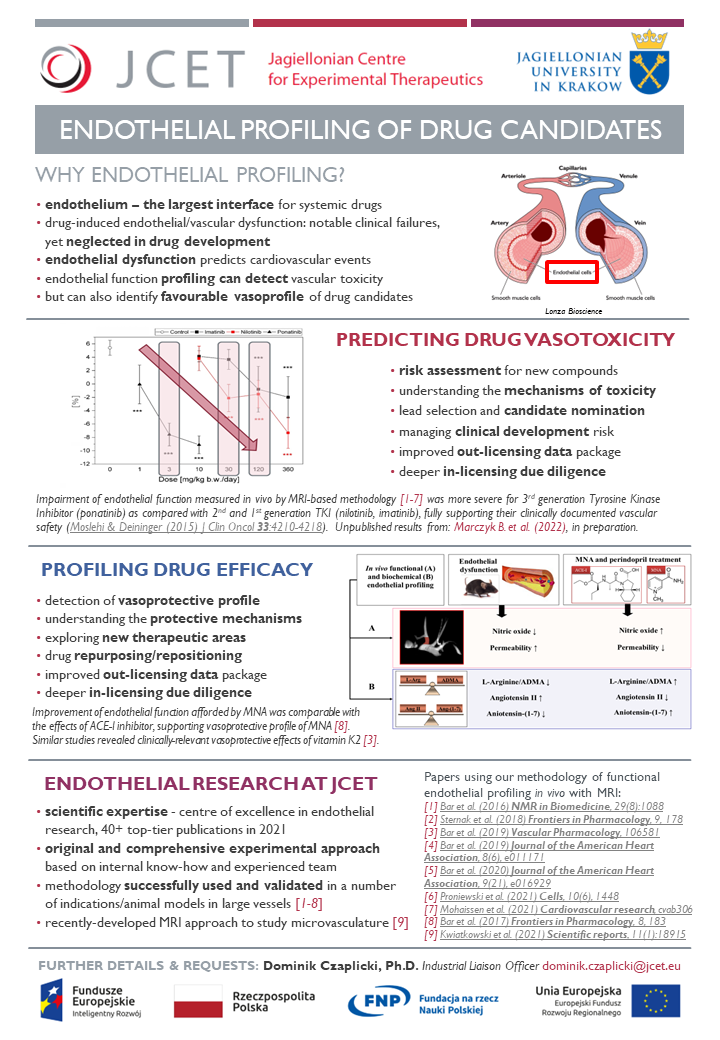 ---
A healthy endothelium is essential for the homeostasis of the whole cardiovascular system; on the other hand, endothelial dysfunction is the earliest detectable pathophysiological abnormality in atherosclerosis and an independent predictor for major cardiovascular events. Notably, endothelial dysfunction can be also drug-induced and in fact is linked to the cardiovascular adverse effects observed with a significant number of drug candidates. This has been the case for compounds as diverse as nonsteroidal anti-inflammatory drugs, compounds used for viral infections, antihypercholesterolemic drugs, antipsychotics, over-the-counter drugs used in gastroenterology and chemotherapeutic agents for cancer treatment. Therefore, evaluating endothelial function is a valuable tool for early detection of cardiovascular toxicity for drugs in most therapeutic areas and should be included in the process of drug development for avoiding the undesirable consequences of drug-induced endothelial injury.
Risk of failure is inherent in drug development, but since the attrition rates (drug candidates that never made it to become drugs) are worryingly high, the pharmaceutical industry remains under huge pressure to address this issue. Yet, drug-induced vascular dysfunction so far has not been routinely evaluated pre-clinically. Endothelial and vascular safety of drugs should be considered an important criterion early in preclinical drug development and JCET aims to be recognized as a centre of excellence in endothelial research and a pioneer in endothelial profiling of drug candidates. The unique set of research tools validated within the TEAM-TECH Core Facility project deliver an original panel of integrated platform of assays for high-content endothelial profiling in vitro, ex vivo and in vivo. The unique panel is based on multiple end-point methodology to assess the effects of compounds on endothelial/vascular function in various systems, including animal models of atherosclerosis, metabolic syndrome or heart failure.
---
The offer of Core Facility research services was developed in connection with the implementation of the project entitled "Endothelial profiling to predict therapeutic activity or vascular toxicity of compounds in early preclinical research" financed within the TEAM TECH Core Facility program of the Foundation for Polish Science from the European Regional Development Fund under the Smart Growth Operational Programme 2014-2020 (POIR), Axis IV: Increasing the research potential, Measure 4.4: Increasing the human potential in R&D sector.