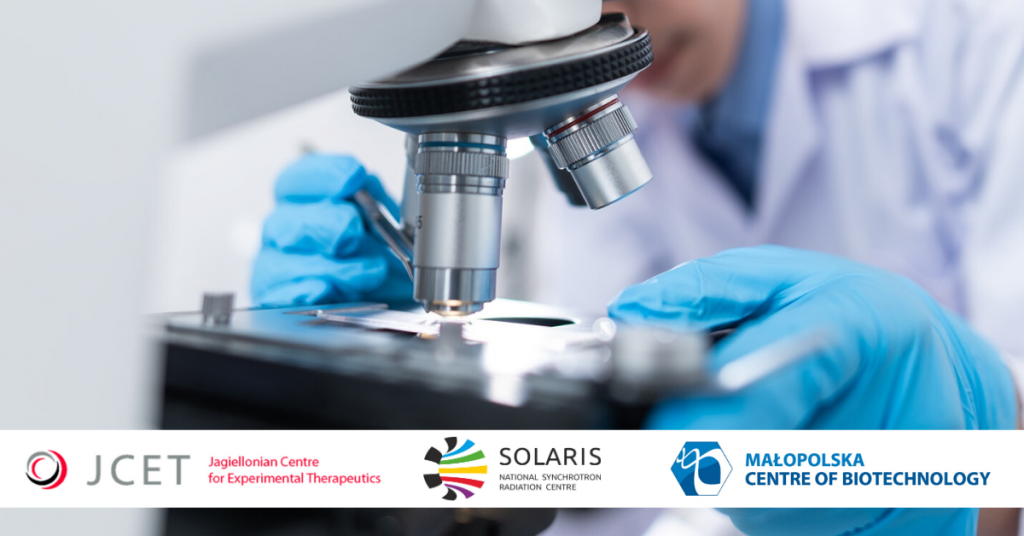 Programme in Biomedical Sciences of the Doctoral School of Exact and Natural Sciences of the Jagiellonian University in Krakow organized jointly by the Malopolska Centre of Biotechnology (MCB), Jagiellonian Centre for Experimental Therapeutics (JCET) and National Synchrotron Radiation Centre (SOLARIS) has a strong interdisciplinary, international, inter-sectoral research and training dimension. In 2020, we will fund 14 studentships: 10 for MCB, 2 for JCET and 2 for SOLARIS.
JCET, established in 2011, is an unique research centre of the Jagiellonian University devoted to interdisciplinary research on Endothelial Biomedicine. In 2020 JCET employs over 50 staff members, including ca 40 scientists, in three research groups. Currently there is over 40 research projects carried out in JCET, with research budget in 2020 of over 6 mln PLN. JCET team is being increasingly recognized by high impact journal publications (average IF for all 30 publications in 2019 published by JCET team was over 5.2). Currently there are 22 PhD students performing their research for their PhD thesis in JCET laboratories. We are seeking for highly motivated PhD candidates interested in positions available in academic year 2020/2021 to join the ambitious, interdisciplinary research team of JCET. We invite young ambitions candidates to carry out PhD in JCET in the frame of Doctoral Schools operating at Jagiellonian University and within the scope of the research projects conducted at JCET (all project descriptions: PL, ENG).
PH.D PROJECT AREAS AND SUPERVISION
I. JAGIELLONIAN CENTRE FOR EXPERIMENTAL THERAPEUTICS (JCET):
Below are the research fields from JCET Groups which are willing to accept new Ph.D. students for the 2021 academic year:

Prof. Stefan Chłopicki, M.D., Ph.D. (JCET Director, Head of the Experimental Pharmacology Research Group, Faculty of Medicine Collegium Medicum UJ, e-mail: stefan.chlopicki@jcet.eu)
Project title: Studies on mechanisms of detrimental effects of anti-cancer therapies on endothelial function vascular wall and cardiovascular system
– one position for PhD student, JCET Institution – funded stipend, regular recruitment
Assistant Prof. Katarzyna M. Marzec, Ph.D. (Head of the Red Blood Cells Spectroscopy Project Team (more), e-mail: katarzyna.marzec@jcet.eu)
II. THE MALOPOLSKA CENTRE OF BIOTECHNOLOGY (MCB):
III. NATIONAL SYNCHROTRON RADIATION CENTRE (SOLARIS):
PH.D PROGRAMME IN BIOMEDICAL SCIENCES
HOW TO APPLY
REGULAR RECRUITMENT
Regular recruitments are held with the use of OAS system (Online Application System). The calls are published and applications are possible two weeks before the deadline. Once published, the calls are available through the Online Application System at Doctoral Schools>Doctoral School of Exact and Natural Sciences>Biomedical Sciences (Jagiellonian Centre for Experimental Therapeutics). One applies to the common doctoral programme indicating the research topics are of interest. Matching of successful applicants and the topics of interest (Principal Investigators) is done after completion of the recruitment procedure.
All documents should be sent electronically (scanned version) to rekrutacja@jcet.eu, sekretariatsdnsip@uj.edu.pl, magdalena.pisarczyk@uj.edu.pl
The schedule for regular recruitment [download]:
Submission of applications in the Online Application System: 17 May – 08 June 2021
Entrance examinations: 14–18 June 2021
Results announcement: 23 June 2021
Enrolment: 24 June – 10 September 2021 (except August)
Waiting list enrolment: 13 and 14 September 2021
The additional information of recruitment may be found here.
The rules of recruitment to Biomedical Sciences of the Doctoral School in the academic year 2021/2022: